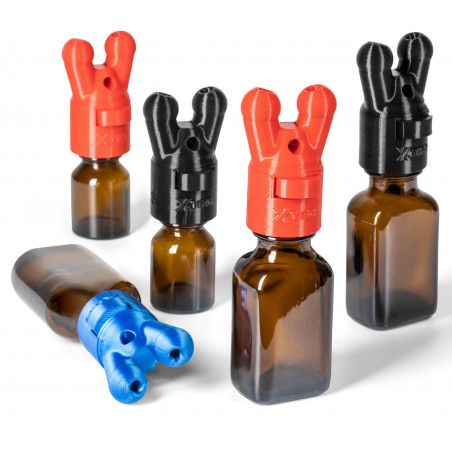  
XTRM SNFFR LEAKPROOF
The new double SNFFR with push button kick channel function without a spill when the button is not pressed.
This is the novelty and the sensation after our SNFFR 1.0!

As always, the SNFFR 2.1 is screwed onto the bottle. Our new click function opens the 3 kick channel and the aroma flows through it. If you let go of the button, the aroma stops running out. Vapor proof and leak proof.
If you would like to have this SNFFR in wiped colors and sizes, you can send us an email and we will be happy to put it together for you.
We set a sales price for the customer of approx. 39.90-44.90 euros as very realistic.

This is available in 2 colors and 2 sizes

Small for all small bottles, Lockerroom small and round bottles, see appendix

Large for all large bottles such as Retro Lockerroom, Belgo bottles or all square bottles

Our products
All our products are in stock and ready to ship.

Free Shipping
Free shipping from 250 euros order value in the EU

MADE IN AUSTRIA! Do you have wishes? Are you looking for something special?
Soon exclusive. Wishes? Something special Talk to us.
Our SNFFR 2.0 is not a mass product, which is also not possible due to the material and the composition of the SNFFR.
You are welcome to start with a small order and choose your own price, but we find a price of 44.90 euros should it not be below that, please no price dumping.
You'll see people will love it and keep coming back and buying it.