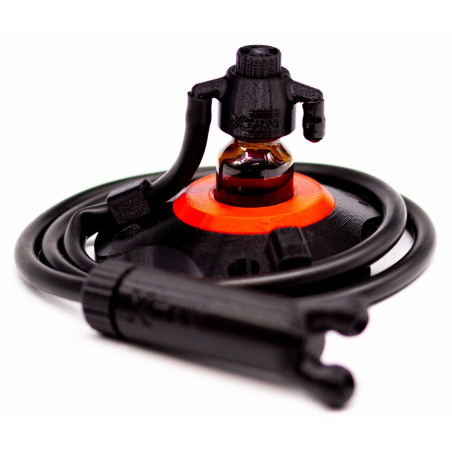  
BANGER STATION INSERT SMALL RED/BLACK
With the BANGER STATION you can immerse yourself in new worlds.

Just relax and enjoy a unique flight that our banger station will provide you with.
The 1 meter long, flexible hose ensures that you always get the right amount of your aroma in every conceivable position. Together with the extra long sniff attachment, which you can hold comfortably in your hand, the banger ensures intense and unforgettable moments.

The wide foot offers the required stability of your bottles on all surfaces. No more tipping over or spilling from drifting while playing.
Find out which of the two of you is more stable with the Banger Station. You or your aroma?

There are different inserts for the foot so that your favorite varieties are always in good hands.
The hose is made of a special silicone so that the vapors do not attack it. In addition, it is a skin-friendly and low-allergenic material.

And the best is yet to come. The attachment that goes on your bottle has two connectors.
So you can have fun alone or find out with a horny guy to what heights the Banger Station will take you.

After the horny act, you turn the wheel above the bottle, just close it again and you're good.

Our products
All our products are in stock and ready to ship.

Free Shipping
Free shipping from 250 euros order value in the EU

MADE IN AUSTRIA! Do you have wishes? Are you looking for something special?
Soon exclusive. Wishes? Something special Talk to us.
The coolest thing about it:
Your friend also wants to join in - it's no problem with the other one (order additional hose and extra SNFFr separately) just clip it on, safety plug unscrew and get to the bottle. Now the two of you can SNFFR`n

In detail:
SNFFR® BANGER STATION Exclusive by XTRM ® (standard) if you want something other than an insert, please write to us
Scope of delivery: 1 station, 1 small insert for small bottles
100 cm special hose (cleaning, if at all, only with water)
1 SNFFR attachment with 2 connectors (for your friend or buddy)
1 plug to seal the opposite side
1 wheel to keep the bottle vapor-proof after the "act".
1 SNFFR length about 12 cm
You should replace the bottle attachment with the original cap after a maximum of 2-3 hours