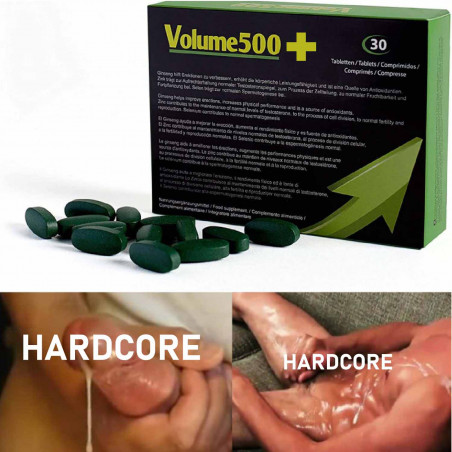  
Volume 500 for more sperm volume
Original Volume500 tablets for more semen and more semen volume naturally.

This offer contains 1 pack of 30 Volume500 tablets (1 month pack) at a lower price than a single pack.

(RRP for 1 pack of Volume500 normally EUR 39-59.95).

Natural and over-the-counter pills for semen deficiency and for better semen, better seminal fluid and also for better semen taste. Volume500 can not only help all men who have insufficient semen, thin semen and transparent semen.

It can also help normal sperm production to naturally produce more sperm and increase sperm volume. The semen not only looks healthy, richly white and creamy, but the higher amount of semen per ejaculation also makes the orgasms more powerful and intense

Our products
All our products are in stock and ready to ship.

Free Shipping
Free shipping from 250 euros order value in the EU

MADE IN AUSTRIA! Do you have wishes? Are you looking for something special?
Soon exclusive. Wishes? Something special Talk to us.
Original Volume500 tablets for more semen and more semen volume naturally.

This offer contains 1 pack of 30 Volume500 tablets (1 month pack) at a lower price than a single pack.

(RRP for 1 pack of Volume500 normally EUR 39-59.95).

Natural and over-the-counter pills for semen deficiency and for better semen, better seminal fluid and also for better semen taste. Volume500 can not only help all men who have insufficient semen, thin semen and transparent semen.

It can also help normal sperm production to naturally produce more sperm and increase sperm volume. The semen not only looks healthy, richly white and creamy, but the higher amount of semen per ejaculation also makes the orgasms more powerful and intense.

The ability to have multiple orgasms (several orgasms in a row) can also be increased with the help of Volume500 tablets. If the sperm production is increased, this also means that the desire for sex increases almost automatically, the sexual excitability increases and the ability to have an erection in general can also be improved, since all these properties of male potency are also influenced by the production of more sperm .

The following improvements in male potency are possible with the help of Volume500 pills:

    more sperm and more sperm volume
    better appearance and quality of semen
    impressive ejaculations and intense orgasms
    improved taste of semen
    more desire for sex and improved erections
    Volume500 is not a drug and is available without a prescription.

Recommended for adults only. Please see the package leaflet.
Data sheet
Vol 500 Inhaltsstoffe:

Ginseng Fucus Sellerie, Gartenspargel, Färberdistel Sägepalme Ingwer (Zingiber officinale) ), Trauben (Vitis vinifera), Zink (Zinkoxid), Vitamin B2, Selen Verdickungsmittel
Specific References
ean13

8437012718050