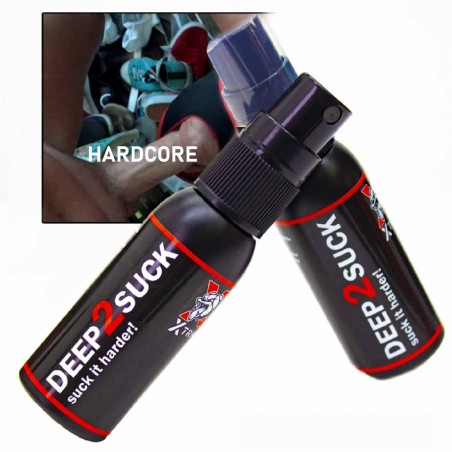  
DEEP2SUCK SUCK IT HARDER Deep Throat Spray-
Man or woman, porn star or dominatrix, they all do it and love it! The one less the most intense and deeper!

DEEP2SUCK® SUCK IT HARDER

DEEP2SUCK suck it harder- Deep Throat Spray for extra deep, intensive B-jobs.
 
Many porn stars (men or women) already know our secret recipe from Deep2Suck, the pleasure of taking their penis orally up to the stop, very deep "Deep Throat".
Before the act, feel the spray 2-3 times in the throat and wait about 5-15 minutes, as you can imagine. If you feel the slightly bitter taste then you are ready.
 
Lie on your back, your partner in front of you and now take in inch by inch of the penis....

Our products
All our products are in stock and ready to ship.

Free Shipping
Free shipping from 250 euros order value in the EU

MADE IN AUSTRIA! Do you have wishes? Are you looking for something special?
Soon exclusive. Wishes? Something special Talk to us.
Many say that our Deep2Suck spray makes it easier and deeper than ever to suck it up.

The Deep2Suck Spray will be able to help you achieve that again in the long run.
 
Conclusion: The more often you use the spray, the less sensitive you usually become.
 
As a rule, the spray works after 15 minutes for some other people after 30 minutes, you will notice it. We also recommend one of our anal lubricants such as Xtrm Silicone, Xtrm Aqua, or Xtrm Fist.
 
Deep2Suck properties

   
30 ml as a spray bottle Oralvspray for deepthroating
Deep Throat - Popular in the porn industry
Simply spray on 2-3 x and leave for 15-30 minutes
Only for persons over 18 years
Do not spray in eyes or on skin
the first scratchy throat is normal
The peppermint flavor also ensures fresh breath
In the end, the only question that remains is:

    swallowing or spitting. What you make is your business, but many men and women love it to the max...