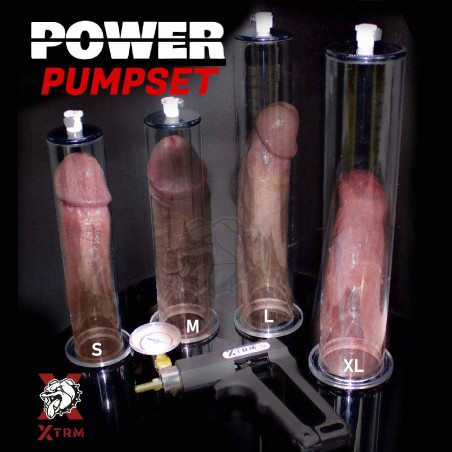  
XTRM - SWOLE THE ROD PUMP (4 SIZE)
Penis cylinder with premium pressure gauge metal pump in 4 Size.
The XTRM high-quality professional pump has a pressure gauge and a high-quality drain valve to reduce the vacuum if necessary and thus always have full control with just one hand.
The high-quality, crystal-clear cylinder is manufactured with a length scale in "INCH" and "CM". Due to the special flange on the cylinder, no sleeve is required.
The XTRM silicone connection hose measures 29 cm, with the CPC quick coupling 7x30 mm the cylinder can be quickly and safely disconnected and connected.

Material: ABS, Silicon, Metall


Small: 23 x Ø 4,5 cm
Medium: 23 x Ø 5 cm
Large: 30 x Ø 5 cm
X-Large: 30 x Ø 6 cm

Our products
All our products are in stock and ready to ship.

Free Shipping
Free shipping from 250 euros order value in the EU

MADE IN AUSTRIA! Do you have wishes? Are you looking for something special?
Soon exclusive. Wishes? Something special Talk to us.
In case of  pain or other physical impairment occur during pumping, please discontinue use and bleed the cylinder
Swole is another term that is widely used in English bodybuilding slang and is also frequently used in USA internet forums. The term describes an extremely muscular body. The usage and meaning of the word is synonymous with the word "Jacked"