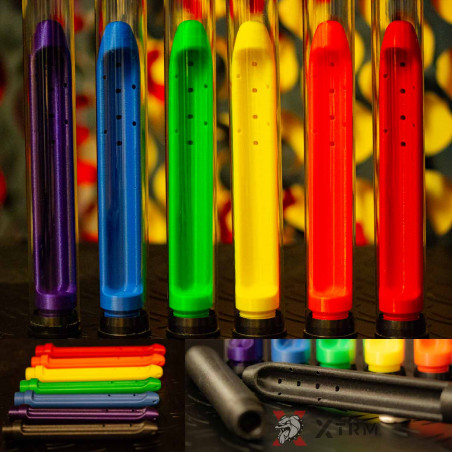  
6 PIECES PRIDE EDITION XTRM - O-CLEAN
With the new XTRM O Clean anal douche you get a whole new feeling of cleaning. Normally, the mostly strong jet comes with full power from above. It's different with our self-made and developed system.
The water is divided and the jet doesn't shoot into the intestine or the abdominal wall, which means that nothing works for a long time.
Our  XTRM - O-CLEAN shower has holes through the side jet that remove this pressure and thus have a completely new anal hygiene effect. Our shower has a completely different effect due to the lateral jet:

The water pressure is divided up in this way and thanks to the lateral jet, the water no longer reaches the abdominal wall, which is not even necessary!

With our XTRM - O-CLEAN, anal / hygiene before the game or fisting gets a completely different remission and it's much easier and hotter.
No pressure in the stomach, no flow, no waiting...

Over 200 testers can't be wrong.
It is the ultimate anal hygiene accessory.


This is our

PRIDE EDTION

THIS IS ONLY AVAILABLE IN

6 PACK

AVAILABLE FROM US!
The colors orange, and green glow under UV light
Would you like other colors? Click here

Our products
All our products are in stock and ready to ship.

Free Shipping
Free shipping from 250 euros order value in the EU

MADE IN AUSTRIA! Do you have wishes? Are you looking for something special?
Soon exclusive. Wishes? Something special Talk to us.